Bike Repair At Your Home Or Business!
Is your bike broken down and you don't have the time to drive it into a bike repair shop? Then let us come to you! Mobile Bike Pros provides expert bike repair and maintenance within our service area in the inland empire. Simply let us know where to go and a certified bike mechanic arrives at your home or business. All of our mobile bike mechanics complete a rigid certification course and are qualified to service all types of bikes. Learn more about our mobile bike repair service and schedule your appointment today!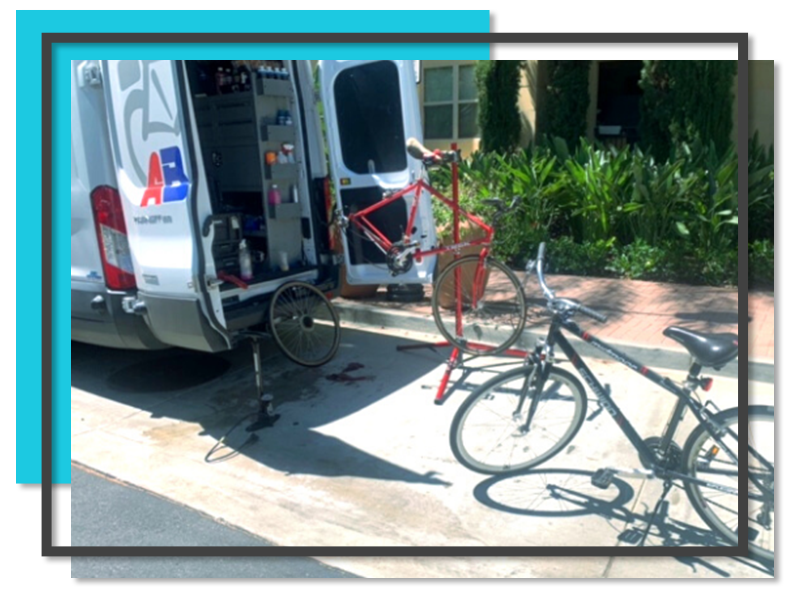 Mobile Bike Repair Service
Just like cars, bikes require routine service and maintenance to operate smoothly and safely. But we understand you have a busy schedule and taking your bike into the shop isn't always at the top of your to-do list. That's why Mobile Bike Pros comes directly to you! From flat tires and sticky chains to more severe damage and worn-out parts, our certified bike mechanics can service any type of bike right at your home or business. Most service calls take about an hour, but filling out the form in complete detail allows us to provide you with a more accurate estimate. We offer a variety of service packages to best suit your needs, with a minimum $150 service call fee which can be applied to any service. Pricing does not include the cost of any additional parts or maintenance, however, let us know your bike's trouble and our experts can help you determine what your bike will need beyond a tune-up. Check out our service packages and schedule your mobile bike repair appointment today!
Contact Us Today
About Us
Based out of San Dimas, CA, Mobile Bike Pros is a bike repair shop that comes directly to your home or business to complete bike repairs and maintenance to conveniently fit your schedule. We service bikes of all types, including ebikes, Segways, and Trikkes. Each of our expert bike mechanics completes a rigid certification course, which ensures they are completely knowledgeable in their field and qualified to service all bikes and mobility vehicles. Our mobile bike repair services are available within our service area in the Inland Empire. We do not offer same-day service and repair, so be sure to book your appointment for mobile bike repair ahead of time or visit our San Dimas, CA store directly.
More Services
Bike Delivery
If you purchased a bike from one of our partner retailer or online stores and chose Delivery through Beeline, please call us. Due to COVID there's been delays in shipping from the manufacturers to us. We want to make sure your delivery is scheduled for the appropriate date based upon when we actually receive and build your bike.
Frequently Asked Questions